Annual Lectures
The Maimonides Centre for Advanced Studies offers an annual public lecture on forms and developments in sceptical thought. It opens the next academic year.
Lecture 2019 - Ada Rapoport-Albert: Did the Elevated Status of Divine Femininity in Theosophic Kabbalah Have a Bearing on the Status of Women?
Date
October 29, 2019
18:00: Lecture
19:00: Reception
Abstract
This lecture questions the assumption, often implied in recent studies of gender issues in Kabbalistic literature, whereby the elevation of divine femininity from the bottom to the top of the Sefirotic hierarchy and even to the domain that lies above it reflected, or perhaps engendered, the incorporation of women in the theurgic practice of the Kabbalists, which aimed to advance the redemptive project of perfecting the union of male and female within the divine realm.
Ada Rapoport-Albert is professor emerita of Jewish history and former head of the Department of Hebrew and Jewish Studies at UCL.
Poster
[PDF]
Lecture 2018 - Julie R. Klein: Scepticism in Spinoza and the Project of Critique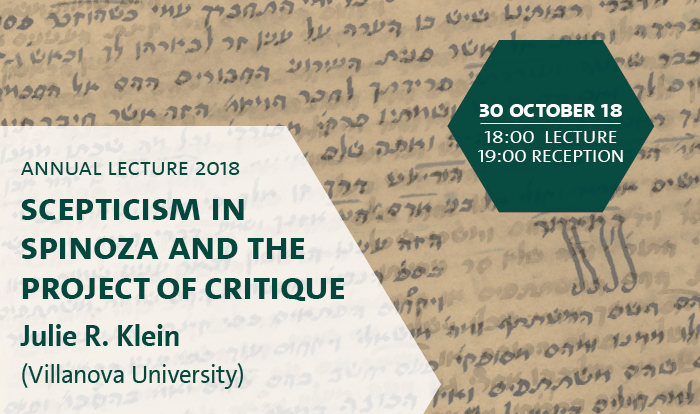 Date
October 30, 2018
18:00: Lecture
19:00: Reception
Abstract
Spinoza famously opposes political rebellion, or what we would call "revolution," on the grounds that it reproduces, and may even worsen, just the conditions it was intended to replace. Yet Spinoza's theoretical and practical philosophy is marked by philosophical rebellion and conceptual revolution: he invites, even demands, that we criticise and move beyond our usual horizons, lest we reproduce old problems. In this talk, Julie Klein will consider Spinoza's relation to scepticism and his practice of critique as a philosophical strategy. She will focus particularly on his account of the freedom to philosophise in order to clarify his view of what makes philosophising possible.
Julie R. Klein is an associate professor of philosophy at Villanova University.
Poster
[pdf]
Lecture2Go
[link]
Lecture 2017 - Katja M. Vogt: The Nature of Disagreement: Ancient Realtivism and Skepticism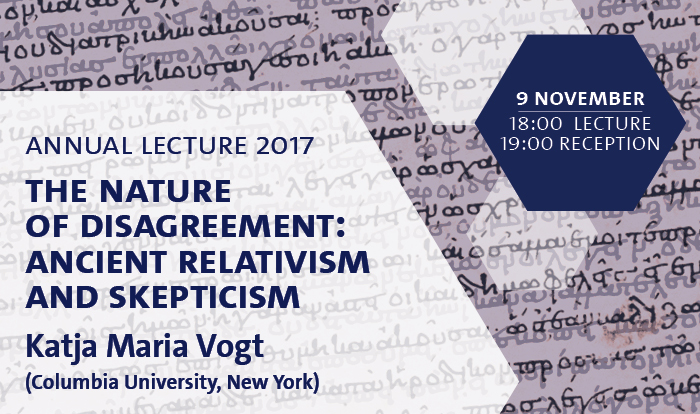 Date
November 9, 2017
18:00: Lecture
19:00: Reception
Abstract
Pyrrhonian scepticism has roots in metaphysical discussions relevant to relativism. This lecture reconstructs these discussions in Plato's Theaetetus and explores how different versions of Pyrrhonian scepticism – the scepticism of Pyrrho, Aenesidemus, and Sextus Empiricus – compare to Protagorean relativism. It begins with a sketch of why Plato interprets Protagoras' Measure Doctrine as global relativism rather than relativism about a particular domain. Pyrrhonian scepticism, it is argued, inherits this global scope. But Pyrrhonian responses to disagreement have important differences from the responses envisaged by Protagorean relativism. Scepticism suggests that, when encountering disagreement, it is rational to step back from one's view and investigate, rather than simply to hold on to one's view, as the relativist presumably does. The lecture defends scepticism's response to disagreement as construed by Sextus Empiricus as being superior to earlier proposals.
Lecture2Go
[link]
Lecture 2016 - Giuseppe Veltri: The Limits of Scepticism and Tolerance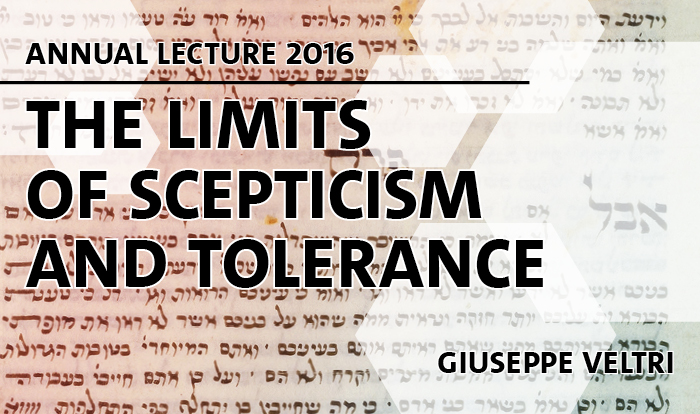 Date
November 8, 2016
Abstract
Sceptical thinking has often been regarded as being dangerous to social and political stability; or, as the Enlightenment philosopher Christian Wolff stated: 'The sceptic is dangerous for religion because the sceptic does not consider anything without doubting it.'  Almost every heresy has sprung from an answer to a question about the validity of norms, customs, and dogmatic patrimony. While past scholarship was interested in emphasising the role of sceptical groups or individuals and their impact on society, as well as their alleged danger to the social order, recently researchers have increasingly directed their attention towards sceptical challenges to hegemonic power structures and to (state) religion (which was a topic already discussed in XVIII century by  Moses Mendelssohn). Here, Stuart Sim is worth mentioning for his emphasis on 'why we need more scepticism and doubt in the twenty-first century.' Sim envisages the problem of the entanglement between politics, dominant culture, and (political) belief and the need for a sceptical attitude as a privileged form of attacking authoritarianism in daily life. Although scepticism is commonly considered a negative attitude, it becomes a positive and necessary resistance to excessive power and to the suppression of dissent.  Hence, a possible impact of scepticism on modern society could be the generation of tolerance. 
In this lecture, three fundamental and debatable points will be discussed. The first question is whether a sceptical attitude can be considered a danger or a profit to society. The second is the origins and nature of tolerance, namely, what are the paradigms which enable a tolerant approach to controversial aspects of social and political life. The third and more complicated question is the relationship between tolerance and scepticism, or what limits are implied by a sceptical and/or tolerant vision of society.
Lecture 2015 - Josef J. Stern: What is Jewish Philosophy? A View from the Middle Ages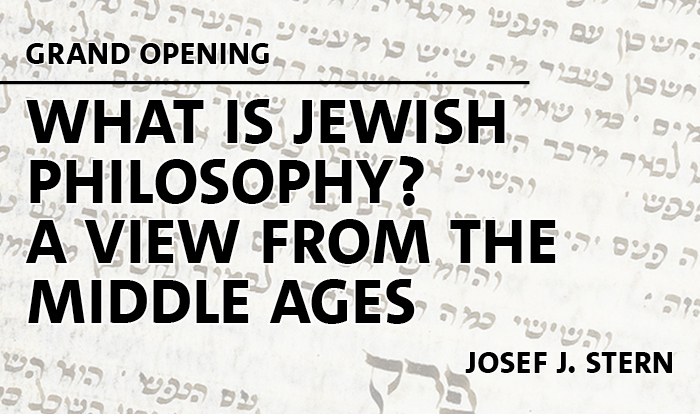 Date
October 29, 2015
Abstract
The solemn inauguration of the Centre took place in the Atrium of the Hamburg State and University Library Carl von Ossietzky. The keynote speech entitled 'What is Jewish Philosophy? A View from the Middle Ages' was delivered by Josef J. Stern, University of Chicago.
Publication
Stern, Josef. "What is Jewish Philosophy? A View from the Middle Ages." In Yearbook of the Maimonides Centre for Advanced Studies 2017, edited by Bill Rebiger, 185–204. Berlin, Boston: Walter de Gruyter, 2017.
[Open Access]
---
Contact
Maimonides Centre for Advanced Studies
Schlüterstraße 51 (5th floor)
20146 Hamburg
Tel: +49 40 42838-9767
E-Mail: maimonides-centre@uni-hamburg.de