Annual Lectures
The Maimonides Centre for Advanced Studies offers an annual public lecture on forms and developments in sceptical thought. It opens the next academic year.
Lecture 2023 - Irene Zwiep: Selbstdenken! Moritz Steinschneider's Pious Scepticism
Selbstdenken! Moritz Steinschneider's Pious Scepticism
Date
24 October 2023
18:00 Lecture
19:00 Reception
Abstract
Fact: Moritz Steinschneider (Prostejov 1816 – Berlin 1907) was an atheist. As far as he was concerned, God was a figment of the imagination and religion a psychological construct. At some point in their lives, he noticed, all human beings faced the limits of reason. In reaction, the wise reverted to scepticism, becoming what Ricoeur would later call 'maîtres du soupçon.' The foolish, by contrast, adopted an easy Autoritätsglauben, meekly accepting religious fallacy as truth. A third category – the horror! – tried to merge theological dogma with scientific fact into religious apologetics. No need to stress here that Steinschneider sided with the sceptics. He rejected religion as a bogus knowledge system, stressed the incompatibility of Glauben und Wissen, dismissed rabbinic seminaries as a threat to scholarship and dogmatic monotheism as hostile to humanity. Tolerant secularity for him was the default mode.
Fact: Moritz Steinschneider was a pious Jew. His marriage, domestic life and habitus were Jewish, as was his professional routine. From 1869 to 1890 he earned a living by managing the Jüdische Mädchen Schule of the Berlin Jewish community and teaching at the Veitel-Heine Ephraim'sche Lehranstalt, a former beth midrash. In his later work he argued that the highest form of morality was found in piety, a term which Grimm's lexicon identified with 'loving awe for the numinous and the holy.' How then did Steinschneider, who had little affinity with the numinous and the awesome, define piety? How did it inspire his scholarship? And how could that pious Jewish Wissenschaft be squared with his legendary objectivity and universal humanism?
This lecture will try to determine precisely what Steinschneider meant by Pietät, trace the intellectual roots of his definition, and reconstruct how Jewish piety braced (rather than undermined) his passion for Selbstdenken and intellectual autonomy. This should help us gain insight into the invisible religion (a term coined by Thomas Luckmann in the 1960s) of Moritz Steinschneider and, no doubt, countless other 'secular orthodox' Jews in late-nineteenth century Europe.
Irene Zwiep studied classics and Semitic Languages in Amsterdam and Jerusalem. In 1995 she obtained her PhD with a study of medieval Jewish and Arabic philosophy of language. In 1997, after two years as a Frances Yates fellow at the London Warburg Institute, she became professor of Hebrew and Jewish Studies at the University of Amsterdam. Her research concentrates on Jewish intellectual history in Europe from the Middle Ages to the present, with a focus on the interface of scholarship and politics. Her lecture on Moritz Steinschneider builds on many years of studying the Wissenschaft des Judentums.
Venue
Please contact MCAS for further information and registration.
maimonides-centre"AT"uni-hamburg.de
Poster
[PDF]
Lecture 2022 - Michael Friedrich: Limits of Faith and Scepticism in Zhang Zai (1020–1078)
In recognition of Giuseppe Veltri's 25 years of service as a university professor.
Date
25 October 2022
18:00 Lecture
19:00 Reception
Abstract
When used as a practical means of achieving tranquillity or as a tool to defeat an opponent in debate, scepticism is never an end in itself, but rather serves various purposes, which have been thoroughly discussed by historians of philosophy and intellectual history. It is perhaps not by accident that not all periods have witnessed strong currents of scepticism and that "Pyrrhonism" only emerged after the establishment of the Macedonian empire. While taking the philosophical relevance of questioning the possibility of absolute scepticism into consideration, this talk will mainly focus on Zhang Zai (1020–1078), a so-called Neo-Confucian, and his intellectual career, offering a close examination and contextualisation of one of his dicta emphasising the importance of doubt on one's path to real knowledge. The results will be juxtaposed with the career of a contemporary Western scholar, allowing surprising shortcuts between times and places and some insights that are hopefully relevant to the enquiry undertaken at MCAS.
Michael Friedrich is a professor emeritus of Sinology at Universität Hamburg.
Venue
Please contact MCAS for further information and registration.
maimonides-centre"AT"uni-hamburg.de
Poster
[PDF]
Lecture 2021 - Vivian Liska: Holy Doubts: Language Scepticism in German-Jewish Modernism
Date
October 26, 2021, 18:00
Abstract
German-Jewish thinkers played a central role in the linguistic turn that marked philosophical and literary innovations in the early twentieth century. In this period, a renewed attention to language coincided with an intensified awareness of its insufficiencies as a medium of communication, as a tool for apprehending reality, and as a path to truth. This lecture explores the Jewish dimension of language scepticism among German-Jewish thinkers and authors associated with "critical modernity," particularly Franz Kafka, Walter Benjamin, Gershom Scholem, and Paul Celan. Tracing their respective approaches to language back to the Jewish textual tradition and forward to the contemporary reception of their thought, this lecture will demonstrate how their scepticism about language articulated the tension between continuity and rupture at the heart of their modernist interpretation of that tradition. Close readings of their often ambivalent and even heretical references to Jewish scriptures and motifs will reveal how these thinkers' doubts about language uphold fundamental premises of Judaism, such as the ineffability of God's name, the linguistic dimension of messianic longing, the power of lament, and the holiness of the word.
Vivian Liska is a professor of German literature and the director of the Institute of Jewish Studies at Universiteit Antwerpen, Belgium.
Venue
Hybrid event (in-person/Zoom)
Poster
[PDF]
Please contact MCAS for further information and registration.
maimonides-centre"AT"uni-hamburg.de
Lecture 2020 - Gianni Paganini: Facts, Fictions, and Hypotheses. Hume's Scepticism and Newton's Method in the Dialogues Concerning Natural Religion
Date
October 27, 2020, 18:00

Abstract
The experimental theist Cleanthes and the sceptical Philo in the Dialogues, along with Epicurus in the oration of the First Inquiry, all address the same problem and endorse the same epistemology. Both the method and the argument come from Newton's Principia: the former is derived from the famous regulae philosophandi, while the latter comes from the Scholium generale appended to the third book of the Principia. Both the theologians of the Boyle lectures and Newton himself in the Scholium generale had established a close connection between the use of induction, the rejection of hypotheses, the argument from design or final causes, and the conception of a "living, intelligent, powerful being" that governs the world. It is notable that Newton did not hesitate to include God among the objects of "natural philosophy." The Dialogues represent a challenge to this Newtonian "experimental theism", but they also aim at rehabilitating the function of hypotheses in response to Newton's famous veto, albeit in a new form that is compatible with the scepticism endorsed by the protagonist of the work, Philo. This new reading of the Dialogues centred on Philo's "hypotheticism" sheds more light on the meaning and scope of the work.
Gianni Paganini is professor of the history of philosophy at the Università del Piemonte Orientale (Vercelli) and a fellow of the research centre at the Accademia dei Lincei (Rome).
Poster
[PDF]
Lecture2Go (Zoom)
[Link]
Lecture 2019 - Ada Rapoport-Albert: Did the Elevated Status of Divine Femininity in Theosophic Kabbalah Have a Bearing on the Status of Women?
Date
October 29, 2019
18:00: Lecture
19:00: Reception
Abstract
This lecture questions the assumption, often implied in recent studies of gender issues in Kabbalistic literature, whereby the elevation of divine femininity from the bottom to the top of the Sefirotic hierarchy and even to the domain that lies above it reflected, or perhaps engendered, the incorporation of women in the theurgic practice of the Kabbalists, which aimed to advance the redemptive project of perfecting the union of male and female within the divine realm.
Ada Rapoport-Albert is professor emerita of Jewish history and former head of the Department of Hebrew and Jewish Studies at UCL.
Poster
[PDF]
Lecture 2018 - Julie R. Klein: Scepticism in Spinoza and the Project of Critique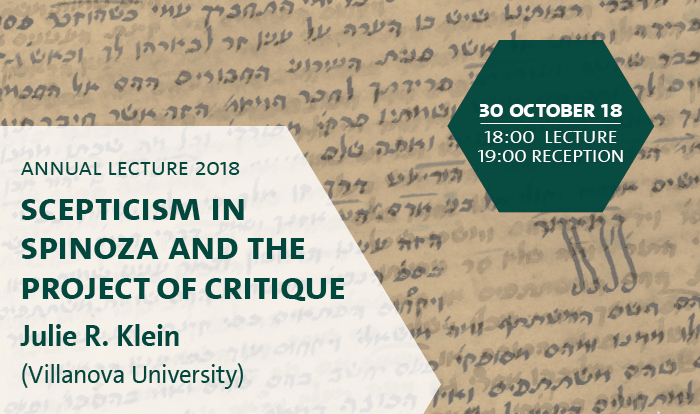 Date
October 30, 2018
18:00: Lecture
19:00: Reception
Abstract
Spinoza famously opposes political rebellion, or what we would call "revolution," on the grounds that it reproduces, and may even worsen, just the conditions it was intended to replace. Yet Spinoza's theoretical and practical philosophy is marked by philosophical rebellion and conceptual revolution: he invites, even demands, that we criticise and move beyond our usual horizons, lest we reproduce old problems. In this talk, Julie Klein will consider Spinoza's relation to scepticism and his practice of critique as a philosophical strategy. She will focus particularly on his account of the freedom to philosophise in order to clarify his view of what makes philosophising possible.
Julie R. Klein is an associate professor of philosophy at Villanova University.
Poster
[pdf]
Lecture2Go
[link]
Lecture 2017 - Katja M. Vogt: The Nature of Disagreement: Ancient Realtivism and Skepticism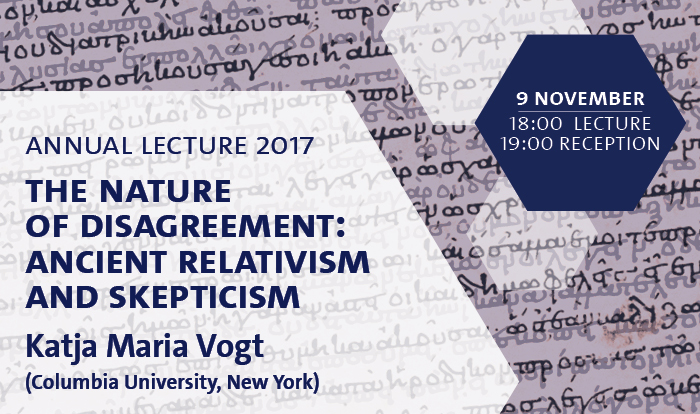 Date
November 9, 2017
18:00: Lecture
19:00: Reception
Abstract
Pyrrhonian scepticism has roots in metaphysical discussions relevant to relativism. This lecture reconstructs these discussions in Plato's Theaetetus and explores how different versions of Pyrrhonian scepticism – the scepticism of Pyrrho, Aenesidemus, and Sextus Empiricus – compare to Protagorean relativism. It begins with a sketch of why Plato interprets Protagoras' Measure Doctrine as global relativism rather than relativism about a particular domain. Pyrrhonian scepticism, it is argued, inherits this global scope. But Pyrrhonian responses to disagreement have important differences from the responses envisaged by Protagorean relativism. Scepticism suggests that, when encountering disagreement, it is rational to step back from one's view and investigate, rather than simply to hold on to one's view, as the relativist presumably does. The lecture defends scepticism's response to disagreement as construed by Sextus Empiricus as being superior to earlier proposals.
Lecture2Go
[link]
Lecture 2016 - Giuseppe Veltri: The Limits of Scepticism and Tolerance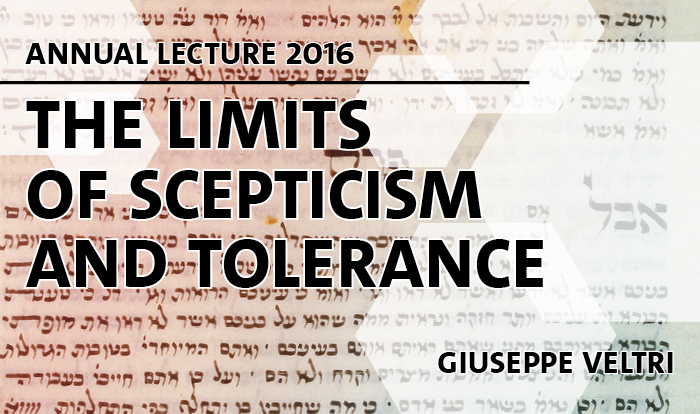 Date
November 8, 2016
Abstract
Sceptical thinking has often been regarded as being dangerous to social and political stability; or, as the Enlightenment philosopher Christian Wolff stated: 'The sceptic is dangerous for religion because the sceptic does not consider anything without doubting it.'  Almost every heresy has sprung from an answer to a question about the validity of norms, customs, and dogmatic patrimony. While past scholarship was interested in emphasising the role of sceptical groups or individuals and their impact on society, as well as their alleged danger to the social order, recently researchers have increasingly directed their attention towards sceptical challenges to hegemonic power structures and to (state) religion (which was a topic already discussed in XVIII century by  Moses Mendelssohn). Here, Stuart Sim is worth mentioning for his emphasis on 'why we need more scepticism and doubt in the twenty-first century.' Sim envisages the problem of the entanglement between politics, dominant culture, and (political) belief and the need for a sceptical attitude as a privileged form of attacking authoritarianism in daily life. Although scepticism is commonly considered a negative attitude, it becomes a positive and necessary resistance to excessive power and to the suppression of dissent.  Hence, a possible impact of scepticism on modern society could be the generation of tolerance. 
In this lecture, three fundamental and debatable points will be discussed. The first question is whether a sceptical attitude can be considered a danger or a profit to society. The second is the origins and nature of tolerance, namely, what are the paradigms which enable a tolerant approach to controversial aspects of social and political life. The third and more complicated question is the relationship between tolerance and scepticism, or what limits are implied by a sceptical and/or tolerant vision of society.
Lecture 2015 - Josef J. Stern: What is Jewish Philosophy? A View from the Middle Ages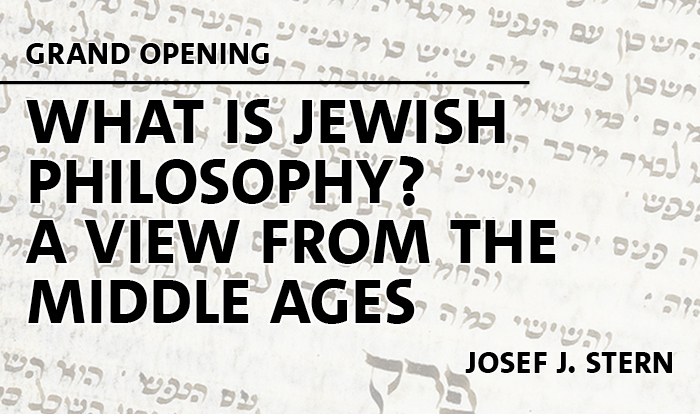 Date
October 29, 2015
Abstract
The solemn inauguration of the Centre took place in the Atrium of the Hamburg State and University Library Carl von Ossietzky. The keynote speech entitled 'What is Jewish Philosophy? A View from the Middle Ages' was delivered by Josef J. Stern, University of Chicago.
Publication
Stern, Josef. "What is Jewish Philosophy? A View from the Middle Ages." In Yearbook of the Maimonides Centre for Advanced Studies 2017, edited by Bill Rebiger, 185–204. Berlin, Boston: Walter de Gruyter, 2017.
[Open Access]