Fellowship Programme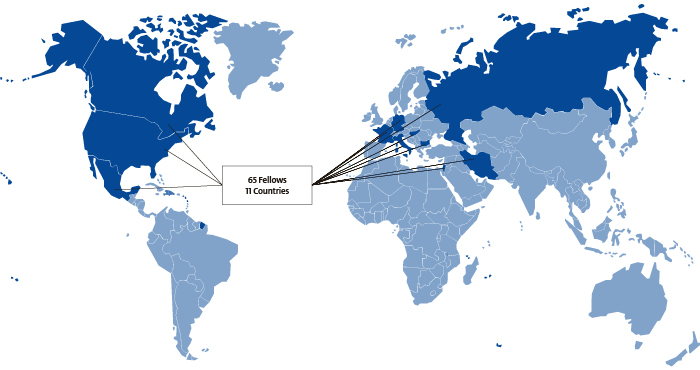 Fellows' affiliations 2015–19
The Maimonides Centre considers the fellowship programme to be its central component. It offers a flexible curriculum that allows internationally established scholars, as well as aspiring junior researchers, to participate for extended or shorter periods of time, with the option of returning to the Centre at a later point. The individual research projects presented by the fellows contribute to the comprehensive textual and historical framework of the Maimonides Centre.
The Maimonides Centre for Advanced Studies will continue its fellowship programme in 2019.  We will
announce a call for application soon. Please check our webpage.

Update: December 2018
Senior Fellowships
MCAS Senior Fellowships provide a framework for established scholars with an international reputation to pursue their research at the Centre for one term. Individual arrangements, such as divided stays, may be considered.
Senior Fellowships are intended for scholars who have held a PhD for five years or more at the time of invitation/application (Category 1) and for those who have achieved an equivalent level of academic qualification, e.g. professorship (Category 2).
Please contact the Maimonides Centre for further information.
Junior Fellowships
Junior Fellowships are awarded to PhD students and Post-Doc scholars who are involved in projects corresponding to the research topics of the Centre.
There are two categories of junior scholars:
Senior Fellows may propose a PhD candidate or Post-Doc candidate for the same period of their own fellowship.
PhD candidates and Post-Docs

can

be awarded fellowship for a period of three to twelve months

in the final

stages

of

their

research

. The number of Junior Fellowships

available

in this category will depend on point 1.
PhD candidates must have obtained an M.A. degree by the time of their application. Post-Doc candidates must be in possession of a doctoral degree at the time of their application.
Funding and additional allowances are subject to the terms and conditions of MCAS regulations, following suggestions made by the German Research Foundation. For further information please contact the Maimonides Centre.
Contact
Contact and Further Information

Maria Wazinski, M.A.
Academic Coordinator
Schlüterstraße 51
20146 Hamburg
e-mail: maria.wazinski"AT"uni-hamburg.de
phone: +49-(0)-42838-8605
---