Fellowship Programme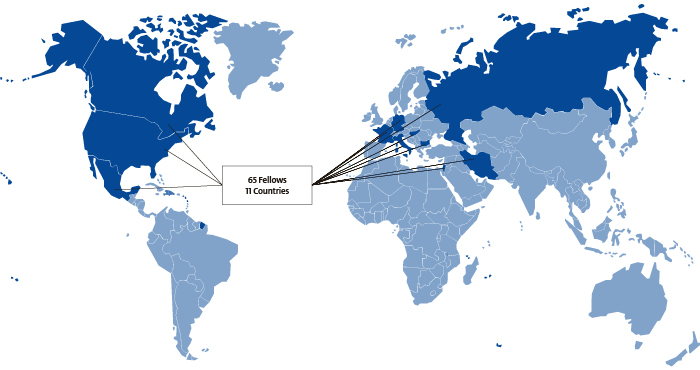 Fellows' affiliations 2015–19 (MCAS I)

The Maimonides Centre for Advanced Studies (MCAS) considers the fellowship programme to be its central component. It offers a flexible curriculum that allows internationally established scholars, as well as aspiring junior researchers, to participate for extended or shorter periods of time. The individual research projects presented by the fellows contribute to the comprehensive textual and historical framework of the Maimonides Centre.
Senior Fellowships
MCAS Senior Fellowships provide a framework for established scholars with an international reputation to pursue their research at MCAS for a duration of three–five months. Senior Fellowships are intended for scholars who have held a PhD for four years or more at the time of invitation/application (Category II) and for those who have achieved a professorship or an equivalent level of academic qualification, or who have min. 12 years (since completion of doctorate) of research experience (Category I).
Fellowships start either on October 1 or on April 1. MCAS invites applications for the following academic years:
October 1, 2020–September 30, 2021—Key Topic: Sources of Knowledge

October 1, 2021–September 30, 2022—Key Topic: Scepticism and Language

October 1, 2022–September 30, 2023—Key Topic: Limits of Scepticism, Limits of Faith
Funding is subject to the terms and conditions of MCAS regulations. For further information please contact MCAS.
Junior Fellowships
Junior Fellowships are awarded to PhD students and postdoctoral candidates who are involved in projects corresponding to the general and the annual research topic(s) of MCAS.
PhD students must have obtained a

n

M.A. degree at the time of their application.
Postdoctoral candidates must be in possession of a doctoral degree at the time of their application.
MCAS offers two PhD and two postdoctoral fellowships every academic year. Fellowships start on October 1 and are awarded for a duration of 12 months.
Funding is subject to the terms and conditions of MCAS regulations, following suggestions made by the German Research Foundation and Universität Hamburg. For further information please contact MCAS.
Application Procedure
Senior Fellowships
Researchers who are interested in a fellowship in the academic years 2020–21 (key topic: sources of knowledge), 2021–22 (key topic: scepticism and language), or 2022–23 (key topic: limits of scepticism, limits of faith) can submit an application.
MCAS asks to submit the following documents in one PDF file:
A research proposal of two to three pages, including the project's relation to the general and the respective annual topic, the status quaestionis of the chosen topic, the candidate's prior research relevant to the proposed topic, a detailed programme of work with a timetable, and a description of the expected form of the outcome of the project
A full CV incl. an up-to-date publication list (max. 5 pages)
Completed application form (link: PDF)
Next deadline: January 15, 2020
Applications will be reviewed and evaluated by MCAS's advisory board. Acceptance letters will be sent out in spring 2020. 
Junior Fellowships
MCAS publishes a call for applications every academic year. The next call for applications is expected to be published at the end of 2019 for fellowships starting on October 1, 2020.
Please note that MCAS does not accept unsolicited applications for its junior fellowship programme.
Contact
Contact and Further Information

Maria Wazinski, M.A.
Academic Coordinator
Schlüterstraße 51
20146 Hamburg
e-mail: maria.wazinski"AT"uni-hamburg.de
phone: +49-(0)-42838-8605
---