International Conferences
2018: International Conference "Abulafia and the Early Maimonideans: Trends, Approaches, and Sceptical Strategies"
Date
March 12–15, 2018
Convenor
Racheli Haliva (Universität Hamburg/Germany)
Abstract
The conference focuses on the different trends and sceptical attitudes Maimonideanism took in the thirteenth and fourteenth centuries by examining various approaches to major religious topics such as the nature of the Torah, the commandments, the Hebrew language, the people of Israel, and the land of Israel. This comparative approach points to distinctive philosophical trends – as represented by ibn Tibbon, Shem Tov ibn Falquera, Joseph ibn Caspi, Levi ben Abraham, Isaac Albalag, Moshe Narboni, Zerahyah Hen, and Hillel of Verona – focusing on major Jewish religious topics. Among these trends, the place of Abraham Abulafia and the early writings of R. Joseph Gikatilla, who wrote some forms of commentaries on Maimonides' Guide of the Perplexed stands out. The questions to be asked are whether it is possible to draw a map of radical versus conservative Maimonideanism and whether the two Kabbalists are as radical as the philosophers when dealing with the same topics. 
Further information will follow soon.
2017: International Conference on Scepticism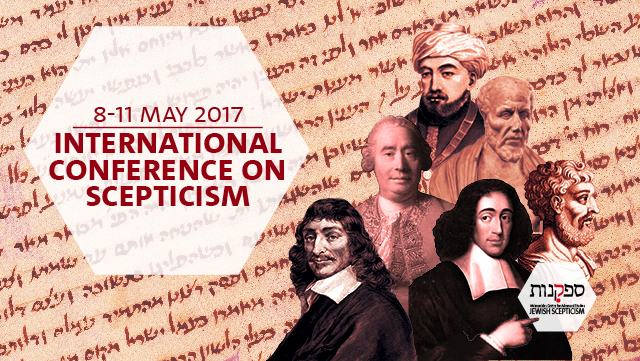 Scepticism from Antiquity to Modern Times

Date
May 8–11, 2017
Abstract
The First International Conference on Scepticism at the University of Hamburg, organised by the Maimonides Centre for Advanced Studies in close co-operation with the Department of Philosophy at La Sapienza University of Rome, addresses the main elements, strategies, and definitions of scepticism with a focus on ancient, medieval, and early modern philosophy. A group of established professors and young scholars working on PhDs and post-docs will lecture on the main questions of sceptical philosophy, such as the criteria for defining and distinguishing ancient scepticism from modern scepticism and the debates on the existence and meaning of a Jewish (anti-) scepticism.
Programme
[pdf]
Venue
Maimonides Centre for Advanced Studies
Room: 5060
Schlüterstraße 51, 20146 Hamburg
The event is open to the public, with advance registration via e-mail:
maimonides-centre@uni-hamburg.de (maimonides-centre"AT"uni-hamburg.de )
---
Contact
Maimonides Centre for Advanced Studies
Schlüterstraße 51 (5th floor)
20146 Hamburg
Tel: +49 40 42838-9767
E-Mail: maimonides-centre@uni-hamburg.de